At its core, SWU is a farming game.  Sure, you spend most of your time doing missions, but you're doing them to get Credits, Crystals, Materials, and Gear.
The Gear you discover is leveled up using Credits and Materials.  The leveled up Gear is upgraded using Credits and Crystals. Gear comes in sets, and completing a set (max leveling each item in the set) gives you blueprints to upgrade Crew.  Better Crew bring in more Credits and better Crystals, Materials, and Gear... etc etc etc.
On the surface this all seems pretty random.  Do a mission and get a bunch of random stuff.  Almost all items in game come from particular areas, so you can drastically increase your chances of getting the last missing component you need by consulting the list below.
WHERE'S THE FUCKING ONE PIECE I NEED?!?!
Here are the sources of all the stuff I can find a source for.  
Materials




Desh
Found on:

Burnin Konn Repeatable 1: ★1-★3

Burnin Konn Repeatable 2: ★1-★5

Burnin Konn Repeatable 3: ★1-★5

Burnin Konn Assault: ★2-★5


Mataou Repeatable 1: ★1-★4

Mataou Repeatable 2: ★1-★5

Mataou Assault: ★2-★5


Hoth Repeatable 1: ★1-★5

Hoth Assault: ★2-★5


Anoat Repeatable 1: ★1-★5

Anoat Assault: ★2-★5

Salvaged from
: all armour and weapons
Armour Sets


Damaged Hutt Guard
Found on:

Mataou Missions

Scrip Pulls

Damaged Scavenger
Found on:
Anoat Missions

Scrip Pulls

Damaged Street Punk
Found on:
Burnin Konn Missions

Scrip Pulls

Damaged Survivalist
Found on:
Hoth Missions

Scrip Pulls

Hutt Guard
Upgraded from: Damaged Hutt Guard


Scavenger
Upgraded from: Damaged Scavenger


Street Punk
Upgraded from: Damaged Street Punk


Survivalist
Upgraded from: Damaged Survivalist


Weathered Bodyguard
Found on:
Burnin Konn Missions

Scrip Pulls

Weathered Enforcer
Found on:
Mataou Missions

Scrip Pulls

Weathered Rebel Guerrilla
Found on:
Anoat Missions

Scrip Pulls

Weathered Smuggler
Found on:
Hoth Missions

Scrip Pulls

Standard Crystals




Aurodium
Found on:

Mataou Daily Credit: ★1-★4

Mataou Assault: ★2-★5

Salvaged from
: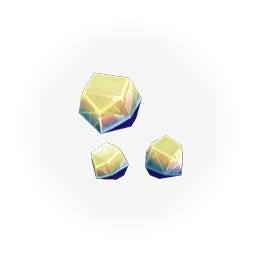 Carbonite

Found on:

Hoth Daily Credit: ★1-★4

Hoth Assault: ★2-★5

Salvaged from
: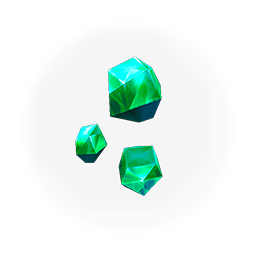 Kiax
Found on:

Anoat Daily Credit: ★1-★4

Anoat Assault: ★2-★5

Salvaged from
: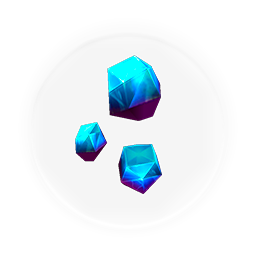 Lanthanide
Found on:

Burnin Konn Daily Credit: ★1-★4

Burnin Konn Assault: ★2-★5

Salvaged from
:
Advanced Crystals


Agrocite

Found on:

Story and Opportunity Missions

Salvaged from
:
Berubium

Found on:

Story and Opportunity Missions

Salvaged from
:


Bodyguard Armour Sets (Burnin Konn)

Street Punk Armour Sets (Burnin Konn)

Chunuh

Found on:

Story and Opportunity Missions

Salvaged from
:


Hutt Guard Armour Sets (Mataou)

Enforcer Armour Sets (Mataou)

Lotholite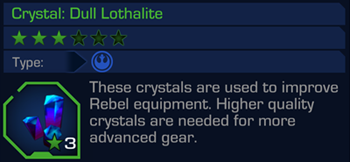 Found on:

Story and Opportunity Missions

Salvaged from
:


Survivalist Armour Sets (Hoth)

Smuggler Armour Sets (Hoth)

_________________
R6 RIOT TRUCKS

HallwayOrchard




Posts

: 269


Boners

: 103


Join date

: 2013-11-04


Age

: 46


Location

: Great White North





Similar topics
---
Permissions in this forum:
You
cannot
reply to topics in this forum